2009
Terri B! - Bang That Box
What can I say about this amazing collaboration between dance diva Terri B and Roger Sanchez , a great combination of strong voice mixed with Roger Sanchez sounds the result is this great tune Bang That Box. My favorite version is the remix of Laidback Luke because keep me "awake" like a good coffee in the morning . So if you clubbing or just love Roger Sanchez work, this tune is for you ! It's out now on all digital stores
Listen to a sample


Buy the CD

Buy the MP3

Visit their official website

Lasgo - Smile
This is Lasgo's first album to feature their new vocalist Jelle. Probably one of the most eagerly awaited album of the year. The album keeps its promises, it is brilliant and euphoric, an irresistible invitation to trance and party. Jelle's vocals flow deliciously on superb melodies and a flawless beat.

Album starts with a short intro that opens onto a superb eurotrance track entitled Alone Tonight. Then comes the single Gone, a pleasure to rediscover. Afterwards, another jaw-droppingly beautiful eurotrance track called Cry 4 You, with awesome synths and a catchy chorus. Next track is their recent chartbreaker Lost, the flagship song of the album. Follows the well-crafted trackOver You, once again a potential hit... Then, the trancy Believe with its lovely airy ambient melody. Afterwards, Serendipity (which stands for the art of finding something fortunate and unexpected while searching for something unrelated), another gorgeous track. Then, if you need a rest, comes the nice ballad Smile. Then back to eurotrance with the bouncy and slightly electro Night On Fire. Follows the first single Out Of My Mind, still very enjoyable. The album closes with the excellent In My Arms.

Just magical, a must-have. It will blow you away !
Watch the video


Buy the CD

Buy the MP3

Visit their official website

Elo-Kin - C.O.S. ( Change of Seasons)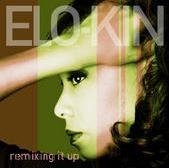 It's a girl from New York and her work reminds me a little bit of Kelis & Ultra Nate ..
She work with Danzel ( Aka Delroy Renalls) and her first song made is "C.O.S. ( Change of Seasons)"
My favorite is the remix made by Diezel Washington & L.G Studio because reminds me of a little bit of Faithless - Insomnia .
The song can be found on all digital megastores..
Rossko - I Remember
Do you still remember 2 4 Family ??They released a hit in 98 called "Stay" now i refresh your memory Good, because i have a wonderful news , one of 2 4 Family members is back in with a greatest collaboration with Rossko ( Deepzone) ..The single is called "I remember" and has a great video ..
The single was released this month and wants to conquer your ears and the radio waves...
For sure this summer will say " I remember".
Listen to a sample

Watch the video


Buy the CD

Buy the MP3

Visit their official website

Suzy Thunder - Big
Suzy Thunder This project began with an idea for a Tv spot and the song was so "Big" then Suzzy Thunder was born.The band members are Sigga Thora(vocalist) & Don Pedro, all are from Iceland and like I said earlier they met when he was producing music for a Vodafone TV spot. The spot become so popular that people asking if will be released and like a single…The team went to studio to do a radio version of this track and the result was the "BIG" Suzy Thunder project .
"BIG" is very popular in Iceland and was included on albums compilation released now and on itunes.
A new dance project "Suzy Thunder", from a cold country Iceland but with a "BIG" track, trying to get your attention and the dancefloor charts. The song is very powerful, not because the project came from the country we're was lunched and the most popular pop singer Bjork, just because has something to say on European dance scene one more prove to listen this new project.
Listen to a sample

Watch the video

Buy the MP3

Visit their official website

Wanda Fisher - EUROQUEEN
Wanda Fisher the Italo-American singer is back in 2009 with the hits from 90's. The hole package are mixed by the team from Sovrana Prod and included hits like "Call me", "Meteor Man", I wanna feel music" and more. The album is called EUROQUEEN (Back in the 90's) and contain 12 tracks plus 2 bonus tracks.
Listen to a sample


Buy the CD

Buy the MP3

Visit their official website

Eternity 8 - Eternity The album
The question is what last for eternity ? The love? Our soul? The music...and this new album, from Jade Villalon (former vocalist Sweetbox) and her music producer Roberto Geo Rosan, called Eternity Roberto Geo Rosan is guilty of success of the songs Trying to be me, This is for the lonely Cinderella, and this year put his charm to do this new material for his new project Eternity 8, but keeping the same idea to use classical themes ..like in his last project Sweetbox.
I think the new album will convince the most stubborn critics to listen from the first song called Wonderful World till last one Turn it up!
The album was released in Japan this month and Jade & Roberto lunched and a single from this material called Love. Fifteen tracks dressed in the most sophisticated way ... ready to conquer the music industry …and your minds & soul....for Eternity...!!
Listen to a sample


Buy the CD

Buy the MP3

Visit their official website

Sovrana Prod. pres. Wanda Fisher - Until i die
Until I die …it is without a doubt a smash hit in Europe.An talent group of italian djs joined forces to make this cover after September s hit single, what makes this cover more interesting ? It's very simple the italo dance version. If you are a italo dance fan for sure you will love this tracks mixed by Alex Chinnici, Paul Andrew & Manuel Varella aka Sovrana Prod . The vocals are made by Wanda Fisher. Until I die is out now!
Listen to a sample


Buy the CD

Buy the MP3

Visit their official website

Hannah - Keeping Score
Hannah has no connection with the Disney series. Hannah she's Estonia's biggest pop star and has release there six albums … Now she lives in London and is preparing new material with the hottest composers and producers.
The single I want to drag your attention has a smash influence to be a hit. The single is called "Keeping Scoore" and like the title I think will score in dance tops not just because of the track but also to remix of Bimbo Jones ,Digital Dog and Riffs & Rays …. If you listen once for sure you will listen again ….. and again because this song is made to "Keeping score".
If you are fan Kim Leoni or Kim Sozzi for sure you will love this new artist .
Listen to a sample

Watch the video


Buy the CD

Buy the MP3

Visit their official website

Go to reviews of 2009 2010 2011 2012 2013 2014 2015 2016 2017